Below are the links to all of the Come Follow Me resources from Meridian for the 2021 Doctrine and Covenants curriculum. Lessons will be published one week ahead of when the lessons are scheduled.
To see the Book of Mormon Come Follow Me resources, CLICK HERE.
April 12-18
by McKay Christensen
Who wouldn't move in exchange for the riches of eternity or the chance to make temple covenants? If a move would help you become more righteous and virtuous, it would be worth it right? But the saints in 1830, couldn't fully see or understand. So, how do we make better decisions even when we can't see the end from the beginning?
by Scot and Maurine Proctor
Robert Matthews said, "Many have supposed that the translation of the Bible [what we call the JST] was only a sideline, a matter of personal, but passing interest to the Prophet Joseph." We agree that too many misunderstand the importance of this work. How many in the Church understand what the JST is or use it regularly?
April 5-11
by Diana Webb
The Book of Mormon had been published. This was the sign to the world that the Lord had commenced the bringing forth of his kingdom. The gospel would now be preached to all the nations of the earth. How would you feel if you were called on a mission a month after you had joined the Church?
by Scot and Maurine Proctor
Parley Parker Pratt was 16 months younger than the Prophet Joseph and he was born about 140 miles east of Palmyra, New York. Parley was born curious about religion, asking his father about the ordinances of the Lord's ancient church from when he was 18. Parley would not rest until he could discover the right path to the Lord Jesus Christ.
March 29-April 4
by Breck England
What is the Atonement of Jesus Christ? How does it affect my daily life? How does it affect my eternal life? How do I receive the Savior's redeeming power in my life? How can He help me with real, deep-down worries?
by Scot and Maurine Proctor
Elder Jeffrey R. Holland said, "That first Easter sequence of Atonement and Resurrection constitutes the most consequential moment, the most generous gift, the most excruciating pain, and the most majestic manifestation of pure love ever to be demonstrated in the history of this world." There is much to study as we consider this sacred topic.
March 22-28
by Isaac Calvert
Like many other sections of the Doctrine and Covenants, Section 29 came from questions—questions about the gathering of Israel, the Second Coming and the specific circumstances of the fall of Adam and Eve, to name only a few. But this section in particular came in the midst of an even more pressing question than these, namely, that of who could receive revelation for the entire church.
by Scot and Maurine Proctor
By the time Section 29 of the Doctrine and Covenants was given, the fledgling Church was just over five months old. Rumors and false claims were circulating faster than convert numbers. What a strategic time for the adversary of all righteousness to attack the young flock and scatter them as fast as he could—to try to stop this little flock from growing. But, as we have said in the past, out of small things proceedeth that which is great.
March 15-21
by McKay Christensen
Satan would have us believe we can't change. But the truth is we can change. As stated in 2 Nephi 1:23, "Awake, my sons; put on the armor of righteousness. Shake off the chains with which ye are bound, and come forth out of obscurity, and arise from the dust."
by Scot and Maurine Proctor
In August of 1830, Newel Knight and his wife Sally visited Joseph and Emma in Harmony, Pennsylvania. Since neither woman had yet been confirmed, they agreed to perform the ordinance and have the sacrament together. Joseph set out to buy some wine for the occasion, when after he had traveled only a short distance, he was met by a heavenly messenger with a new instruction. The Church was rolling forth with understanding coming line upon line.
March 8-14
by Diana Webb
In the early period after the Church was organized, the Saints were admonished to strengthen those who had already joined the Church, even as opposition and persecution increased. Even so, the Lord continued to provide encouragement and counsel to those who desired to help build the kingdom and establish the cause of Zion. These words are not just intended for those early Church members—they are for everyone engaged in God's work—including you and me today.
by Scot and Maurine Proctor
After the sacred gathering of nearly four dozen Saints in the Whitmer Home in Fayette, New York on Tuesday, April 6, 1830, this little, no, tiny band was given the commission to take the restored gospel of Jesus Christ to all the world. What an overwhelming task! How could so few bless so many?
March 1-7
by Breck England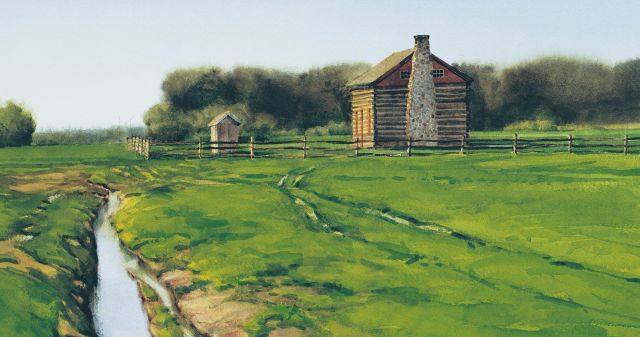 This lesson is about "the rise of the Church of Christ." What is meant by "the rise of the Church," and why is a church even necessary?
by Scot and Maurine Proctor
When that group of 40 or more gathered in the 20 by 30-foot Whitmer cabin that April 6, 1830 to organize the "only true and living church upon the face of the whole earth", they could not have entirely foreseen what lay ahead for this church, but they did know they were about a great work inspired by God Himself. Let's take you to that scene today.
February 22-28
by Isaac Calvert
As Elder Renlund explained recently in General Conference, the decision to take part in this kind of repentance is a joyful one. And if we want to experience more joy in our lives (something I think all of us could definitely use right now), he says, all we need to do is begin to repent and that joy can also begin.
by Scot and Maurine Proctor
The Doctrine and Covenants is a book full of affirmations that individuals count—that each of us is important in the sight of God. Message after message is to individuals, some we have heard of like Oliver Cowdery or Hyrum Smith, and some to less familiar people.
February 15-21
by McKay Christensen
The witnesses whose names are written in the first few pages of the Book of Mormon had a similar view. They saw what others did not see and knew with certainty what others would come to know. And these witnesses were commanded to bear witness of what they saw. The question is: Will you and I stand as witnesses?
by Scot and Maurine Proctor
How do we know about the reality of things we cannot see? How do we know about God whose face we can't remember? How do we develop faith in spiritual things that are real, but invisible to our eye? We begin to learn these things because of the witness of others.
February 8-14
by Diana Webb
When the angel Moroni appeared to Joseph Smith in September 1823, he foretold the restoration of the Aaronic and Melchizedek Priesthoods in connection with the translation of the golden plates. "When they are interpreted, the Lord will give the holy priesthood to some, and they shall begin to proclaim this gospel and baptize by water, and after that they shall have power to give the Holy Ghost by the laying on of their hands."
by Scot and Maurine Proctor
The more carefully you study the translation and the coming forth of the Book of Mormon, the more you are amazed at the gift and power of God that was given to Joseph Smith and Oliver Cowdery as they translated the record. These are two very young men: Joseph is 23 and Oliver is 22 years old!
February 1-7
by Breck England
The word "desire" appears eight times in Doctrine and Covenants 11. Like any tender parent, the Lord is interested in what we are interested in. He wants us to have the desires of our hearts if they are righteous. And in the end, we will be judged as much by what we have desired as by what we have accomplished.
by Scot and Maurine Proctor
As you read the Doctrine and Covenants, section 10 seems out of place chronologically. Since it talks about Martin Harris and the translation of the 116 pages, shouldn't it come after Section 3? What happened? We'll tell you today.
January 25-31
by Isaac Calvert
As we seek to, as President Nelson described it, "grow into the principle of revelation," we can learn an important lesson from a legend told among rabbis about unlikely, everyday courage as the children of Israel stood at the banks of the Red Sea.
by Scot and Maurine Proctor
By the end of September of 1828, the Prophet Joseph had repented of his sins in succumbing to the pressures of Martin Harris. The Angel Moroni had restored the Plates and the Urim and Thummim back to him and he was ready to begin translating again. He was promised by the angel that a scribe would be sent to assist in this work. We don't always understand the Lord's timing, because a scribe would not be sent for nearly seven months.
January 18-24
by McKay Christensen
Several years ago, my son and I attended a father's and son's basketball camp at BYU. The camp was held over Memorial Day weekend and on Sunday we went to sacrament meeting in the Assembly Hall. The speakers for our meeting were Joe Christensen and L. Tom Perry. Elder Perry gave one of the most memorable testimonies that I can remember.
by Scot and Maurine Proctor
Joseph does not shy away from humbly including Section 3 in the Doctrine and Covenants, where he is severely chastened by the Lord for a failing. He could have hid it or polished it up to preserve his image, but because he is so honest, we not only get to see firsthand, the spiritual development of a prophet, but he also gives us all a deep teaching.
January 11-17
by Diana Webb
President Benson called the Book of Mormon the "keystone" of our religion because it brings us to Christ. He referred to the Doctrine and Covenants as the "capstone" of our religion, because it brings us to Christ's kingdom.
by Scot and Maurine Proctor
Do we know every scripture that Moroni told Joseph Smith on his September 21 visit in 1823? Our first answer is, "They are listed right here in Joseph Smith's history." Yet Oliver Cowdery told us there are many more. And here's another surprise—all but two are from the Old Testament.
January 4-10
by Scot and Maurine Proctor
In every dispensation of the world a witness is called to testify to the people of that day and age that he has seen God and has talked with Him and has received instructions and guidance from Him. Faith comes and is increased by listening to and heeding the testimony of that witness. In our day, in this, the dispensation of the fulness of times, that witness is Joseph Smith.
December 28-January 3
by Scot and Maurine Proctor
It's hard to leave our intense Book of Mormon studies behind, but we are now given the immense privilege of studying the Doctrine and Covenants and the early history of the Church and the Restoration of God's Kingdom here upon the earth in our day. What could be more exciting?