Sign up for Meridian's Free Newsletter, please CLICK HERE
It's always a little sad when the days shorten, the morning and evening have a nip, and the goldenrod appears. School buses, new shoes, new teachers and a new school year beckon.  Even when you're no longer a student in school, the conclusion of a happy summer and the return of September bring reflective thoughts for me.
This week I added up what I call my favorite fantastic five finds:  books, recipes, a new movie and a discovery that have made this summer one to treasure.  They all come from the advice of friends, both old and new, so as your Meridian friend, I'm passing them along!
My Two Favorite Summer Books
My husband and I have always enjoyed reading books out loud together. Before children, during our 25 years of raising them, and now in the empty next years after, we find special delight in well-written books for juveniles.  Last summer I wrote about "Wonder" by R.J. Palacio that has become such a phenomenal movement and the other books that meant so much a year ago. CLICK HERE 
This summer's favorite juvenile book was:
Missing May by Cynthia Rylant
This critically acclaimed winner of the John Newbery Medal is a very short read that is actually more like an extended story than a novel.  Summer is a 6-year-old orphan who has been passed from pillar to post for most of her sad, young life. When a distant aunt and uncle, well into their retirement years, adopt and bring her home to their single-wide trailer, they love her as only a couple who have yearned for a child all their lives can.  The love between the three members of this unusual little family is so delicious, rich and tangible that you can almost scoop it up with a spoon. But you'll need a big one along with a big box of Kleenex for the tears at the end.
When May, Summer's aunt and good-as-a-mother for six years, dies in the garden among her pole beans and carrots, life for 12-year-old Summer and her Uncle Ob becomes as bleak as winter. Ob doesn't want to create his beautiful whirligigs anymore, and he and Summer have slipped into a sadness that they can't shake off. They need May in whatever form they can have her — a message, a whisper, a sign that will tell them what to do next. When that sign comes, Summer will discover that she and Ob can keep missing May but still go on with their lives.
The Women of Nauvoo by Richard Neitzel Holzapfel
I stumbled onto this older book (published by Deseret Book in 1992) at a Deseret Industries.  Once I started, I could NOT put it down.  Nauvoo was the site of a seven-year period in Church History so eventful and important that, as Eliza R Snow wrote, "to narrate what transpired with the seven years in which [the Saints] built and occupied Nauvoo… would fill many volumes."
This well-researched and engaging book represents the author's effort to rediscover and recall the rich spiritual heritage left by the courageous and dedicated women of Nauvoo, whose story in many cases has been left untold.
It is extremely well documented containing many, many quotes, narratives and letters from the women who lived there.  I came to know the Prophet Joseph Smith in a new way from these women's lives and interactions with him.  I learned that difficult family circumstances, including divorce, single women and family challenges are not one iota different than now.
I learned that the women and children were a greater part of daily life in Nauvoo and the population than the men. There were many single women in Nauvoo for the same reasons we experience now: divorce, abandonment, never-married or death. Many of the men during the Nauvoo period served distant missions. Others worked 24-7 on the Nauvoo emple and were as good as gone. Still others needed employment or work outside of Nauvoo to support their families and left for periods of time for that purpose. Even with the men gone, I learned that many of the women were constantly pregnant, often becoming so while their husbands were home for a short time from work outside of Nauvoo or Church service. These remarkable women often managed their pregnancies and deliveries alone, without the support of their husbands who were absent for the above reasons. It's hard to imagine their daily courage as life went along as "usual" – often with a significant number of other to care for.  This alone is reason to put these dear sisters on very tall pedestals for me!
These early sisters captivated me! A really good peek into their daily lives and thoughts was fascinating!  As the coinciding time for the Temple to be completed and to leave their beautiful city of Nauvoo came closer, I cried in the chapter where I learned that many of them donated their prettiest things, including plants and living room furniture, for the Celestial Room at the temple.  Their newly emptied living rooms were then converted to paint shops and workrooms for the wagon wheels and assembling parts needed to construct the wagons for their journey west.
Their courage, faith, fortitude and daily example are a part of our heritage that seasoned and established the Church of Jesus Christ of Latter-Day Saints in the Nauvoo years.  After reading this book, my testimony and knowledge have grown significantly and I am more thrilled than ever to be a part of it all.
Next on the list is a favorite book that become a newly release Netflix movie this summer!
The Guernsey Literary Potato Peel Pie Society"  by Mary Ann Shaffer and Annie Barrows
This book with the unusual title, (that many just call and you can easily find as the "Potato Peel Pie" book) is a favorite of many people I know, including my dear friend Maurine Proctor. I listened to it first on CD after numerous friends told me all about it.  The British accent of the reader was so enchanting that I listened to it again several years later with my husband who enjoyed it just as much.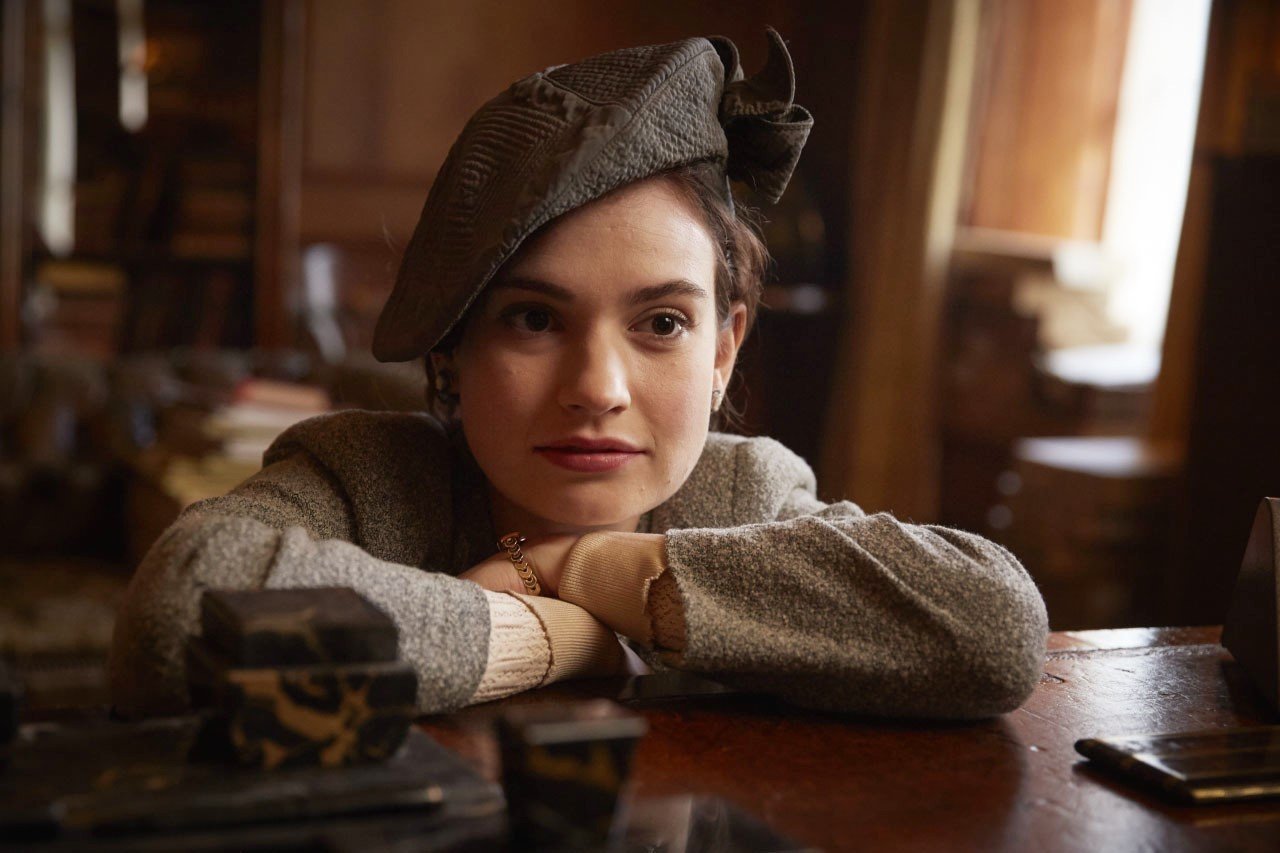 It is a remarkable tale of the island of Guernsey during the German Occupation and of a society as extraordinary as its name.  The time is post World War II London where a young, successful and beautiful writer is in search of her next project.  A series of letters introduces her to a little book club that found a great source of comfort and pleasure during the German occupation of the Guernsey Islands by reading the classics.  The characters and plot are so well-crafted that it's impossible not to be sucked into the magic of it all.  I long wondered who could possibly play Juliet Ashton, the delightful young protagonist.  Lily James is perfect. Many will recognize her and other characters in the movie from the PBS Downton Abbey series.  She was also the star of the recent Cinderella movie.
My Next Favorite Find of the Summer:  Settle Down Herbal Capsules for Sleeplessness
I haven't been able to get as much late night reading done this summer as I usually do because I've been able to go to sleep at night!  Sleeping deeply and long enough at night becomes more elusive as bodies age for many, including me.  I've tried a number of things that haven't been effective enough to bother with and have been hoping for the best each night.  Insomnia might be good for reading, but it is not good for feeling your best the next day!  Or, as studies show, for overall, long-term health.
When a naturopathic doctor in Colorado reached out to me with questions about the Voxx Life Power socks that we share here at Meridian, I learned that she had personally created a formula for her husband who couldn't settle down at night – or during the day.  She calls this state that many of us live in (during the day as well) "busy brain" and/or "mind chatter." It's an over-excited state where you're functioning, but sure wish you could calm down related to the health of the adrenal glands. The all natural ingredients nourish the adrenal glands that manage the "fight or flight" response.
I couldn't WAIT to try it, and oh, my.  It is the real thing!  It took a couple of nights to kick in, but once it did it's an amazing blessing!  For this entire summer I have taken one at night and within 30 minutes I quietly drift off and wake up refreshed at 6:00 a.m.  My husband takes one either before bed or when he wakes up in the night and can't go back to sleep,  He has had equal success!  Since April, we have been quietly sharing it to find out if our other friends who enjoy our products would have the same experience.


It is several months later now and we have had many tell is that it is just the same happy results for them and their families! They are sleeping at night and also coping with family stress and anxiety during the day.  They are finding that it is helping their children (including grown children and grandchildren) cope with life, stress, distractions, frustrations from mental challenges, over-excitability and moodiness.
Right now we'll be sharing it at Meridian as a back-to-school aid for children, but it is actually for adults as well.  It even settles down even yapping dogs and skittish horses.  We're excited to tell you more about it soon, but you can go ahead and order  "Settle Down" HERE .
Next on the list is my favorites is yummy eats.
Avocado, Mango and Black Bean Salad!  Hawaiian Fried Rice!
As I've mentioned in this column before, we enjoy a community vegetarian pot luck supper each month.  Our August meeting had a Hawaiian theme.  My absolute favorites were the Mango-Avocado-Black Bean Salad and a delicious Hawaiian Fried Rice. These side dishes easily become main dishes, which is familiar for those of us who love whole-food, plant-based eating.  YUM!

Hawaiian Fried Rice
Print out the PDF recipe HERE
4 cups Basmati rice (It's best to use rice that has been cooked the day before – it'll be  drier and won't get soggy)
2 Tbsp. olive oil
1 -2 tsp. of curry powder
3 Tbsp. soy sauce
1 medium chopped onion
3 garlic cloves, finely chopped
1 small finely chopped or grated carrot
½ chopped bell pepper
½ cup frozen peas
1 medium can pineapple chunks, or 1 cup chopped fresh
2 chopped green onions, including the greens
½ cup unsalted whole cashews
1/3 cup fresh cilantro
Dash of salt and pepper
As desired:  red pepper flakes, fresh cilantro, soy sauce, raw cashews
1) Start with cold, cooked rice. Preferably a day old so that it is dry.  Separate it with your fingers so the  grains are loose and it's not clumped.
2) Mix the curry and soy sauce together.
3) Drizzle the olive oil in a large frying pan. Add onion and garlic. Cook for about 1 minute until fragrant.
When the pan gets dry, add a little water or veggie stock (made with a bouillon cube) to keep the ingredients sizzling.
4) Add the bell pepper, carrot and peas, and cook until crisp/tender
5) Add the rice, pineapple chunks and cashes.
6) Drizzle the soy sauce/curry mixture to combine and gently stir until the rice "dances" (makes a popping sound). Avoid adding any more stock from here on or it will get soggy.
7) Serve in a hollowed out pineapple shell, and top with the green onions and finely chopped cilantro leaves.
Mango, Avocado and Black Bean Salad With Lime Dressing
Print the PDF Recipe HERE
2 ripe but firm avocados, halved, peeled and cubed
3 Tablespoons lime juice, divided
2 ripe but firm mangoes, peeled and cubed
1 tsp. grated lime zest
2 Tbsp. chopped cilantro, plus more for garnish
½ tsp. sea salt
¼ tsp. ground black pepper
¼ tsp. sugar
3 Tbsp. extra-virgin olive oil
1 15-oz. can no-salt-added black beans, rinsed and  drained.
Gently toss avocado with 1 Tbsp. of lime juice in a medium bowl. Add mango and jalapeno. Gently toss to combine. Set aside.Whisk together the lime juice, zest, cilantro, salt, pepper and sugar in a large bowl. Whisk in oil until thoroughly combined to make a thick dressing. Add avocado/mango mixture and black beans.  Toss gently. Garnish with cilantro and serve immediately.
There you have it! My favorite five fantastic finds of the summer that are good for ending the summer with a bang, or enjoying any time of the year.
Carolyn Allen is the Author of 60 Seconds to Weight Loss Success, One Minute Inspirations to Change Your Thinking, Your Weight and Your Life. She has been a columnist for Meridian Magazine for 11 years,  providing mental and spiritual approaches for weight loss success and happy living both online and in the Washington, DC community since 1999.  She has presented for Weight Watchers, First Class, Fairfax County Adult Education and other community groups. She and her husband, Bob, are the parents of five children and grandparents of a growing number of darling little ones. They are now happy empty nesters in Jackson, Tennessee, close to Memphis, where they center their online business for an amazing herbal detox. CLICK HERE