The following is excerpted from the Church Newsroom. To read the full article, CLICK HERE.
Although the pandemic has made international travel very difficult, it did not stop leaders of The Church of Jesus Christ of Latter-day Saints from ministering to its members. Advanced technology allowed Sister Jean B. Bingham, Relief Society general president, and Sister Camille N. Johnson, Primary general president, to visit the Asia Area virtually from Sept. 4-12.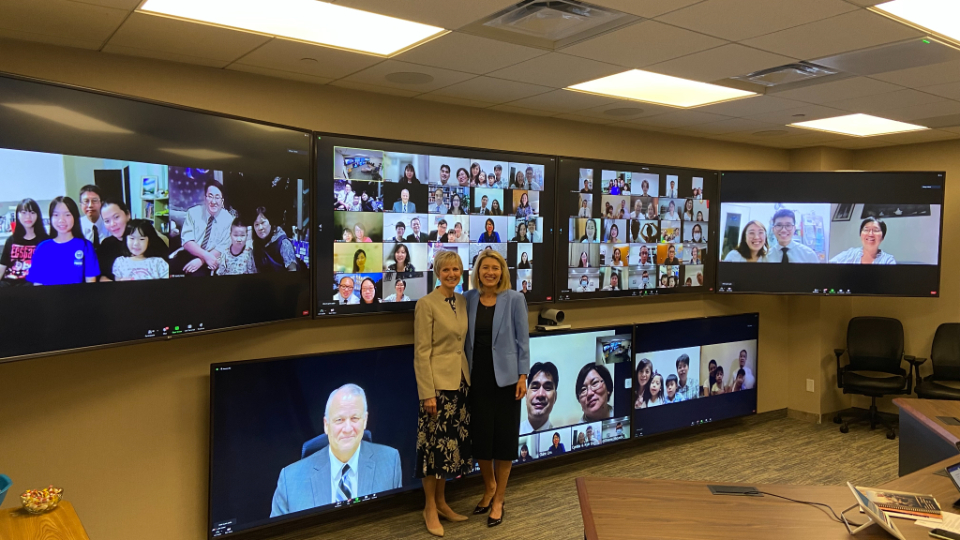 Collectively, they visited 11 countries and regions, including Hong Kong, Macau, Taiwan, Thailand, Cambodia, Singapore, Malaysia, Indonesia, India, Sri Lanka and Pakistan. This was the Area's largest-ever virtual visit originating from Church headquarters in Salt Lake City, Utah. The Asia Area Presidency – Elder David P. Homer, Elder Peter F. Meurs and Elder Benjamin Tai – accompanied both presidents for the tour.
"We love you," Sisters Bingham and Johnson said to their audience, looking at television screens filled with attendees from all over Asia. "We see you in your homes and we feel your spirits, your beautiful, radiant smiles. You show us that you have testimonies of the gospel; that's why you are here today."
Their visit aimed to show love and support to local Church leaders, members and friends while strengthening their faith in Christ. They addressed Primary leaders, Relief Society and Elders Quorum presidencies and priesthood leaders, giving practical advice on how to magnify their callings. Their specific counsel to parents of children and youth and Relief Society sisters focused on bringing the blessings of faith in Jesus Christ into daily life.
In addition to group meetings, both presidents visited with members in their homes. Though thousands of miles away, these Church members said they could feel their genuine love and described the visit as "an unforgettable opportunity."
To read the full article, CLICK HERE.