With Thanksgiving coming up, what better time than now to appreciate all that surrounds our lives. The following books not only celebrate this holiday but that are clever, beautiful, and engaging. Chances are good that you will desire to give some of these outstanding books for Christmas gifts. All are picture books and good for all ages unless otherwise indicated.
We Give Thanks, by Cynthia Rylant and gorgeously painted with subdued pastels by using pen, ink, and watercolor by Sergio Ruzzier, expresses so many things to be thankful for in a sweetly rhythmic pattern. A cute bunny and his little animal friends appreciate many simple things they are grateful for. We give thanks for apple trees/ and bushes filled with roses./ We Give thanks for nice warm soup/ and fires to warm our toeses. The open page illustrations fill the pages and the ending is a fun surprise.
Thankful, by Elaine Vickers and uniquely illustrated by Samantha Cotterill with full open page pictures done in hand-built three-dimensional sets is photographed creates a visual treat. It truly motivates you to look around at all of God's creations and appreciate all. A young girl is making a list of all that she is thankful for and begins with her room. She goes on to be thankful for family, nature, friends, books and so on. This is a tender, sweet reminder of being continually grateful.
Heads and Tails Underwater, by John Canty, is a follow-up book for Canty's popular Heads and Tails and Heads and Tails: Insects. This clever book is actually a guessing game for youngsters, ages two through six, where the simple text gives a few clues to guessing this underwater creature. Upon turning the page, (and after the guess has been made), the rest of the animal is revealed along with one word stating what it is. I am gentle. I can sing. I am the biggest animal in the world. I am…(this is when you turn the page) a whale. There is much to learn in this book including possibly opening a new world of interest for your child.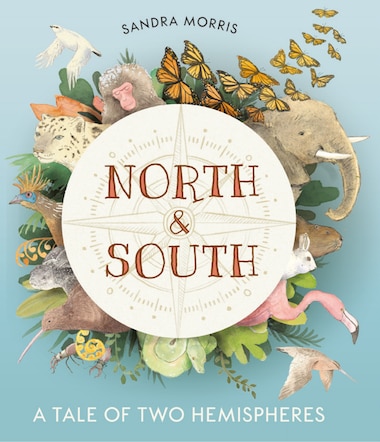 North & South: A Tale of Two Hemispheres, by Sandra Morris, is majestic and informative with wonderful material that fills this book. The author/illustrator takes you through the months of the year beginning with January. Each month is separated into both world hemispheres on the open page. One side addresses the north and the opposing side deals with the south. Animals, along with their conservation status, are displayed according to their habitat. You will be alerted if an animal is in a threatened state. There is so much to learn; however, the layout and text is definitely kid friendly. The illustrations are stunning and made with watercolor and salt. The end-pages show the world and animal habitats.
Have You Seen Gordon?, by Adam Jay Epstein illustrated with much detail and color done digitally by Ruth Chan, has to be the perfect traveling book. This elaborate and cheerful book is full of lively characters with pictures rich in humor and even jokes as you search for Gordon on each open page. The amount of activity on each spread will almost overwhelm your eyes as you navigate through the many animal antics throughout. This book will definitely become a favorite for all.
Once Upon a Time There Was and Will Be So Much More, by Johanna Schaible, is quite an amazing book with pages that gradually get smaller as you go from billions of years ago to our present day. Then, cleverly, the pages get larger as you near the end of this unique book suggesting that your future begins now and asking questions about what your plans are for today, next month, next year and ultimately your plans for your future. This is a wonderful book helping all look at their lives and the possibilities for their future. This is a Swedish import, and the illustrations were done with acrylic and cut-paper collage.
Over and Under the Canyon, by Kate Messner and aesthetically illustrated with mixed media by Christopher Silas Neal, is a continuation of Messner's Over and Under book series. This particular book is rich with the canyonlands habitats of animals, both nocturnal and diurnal, as they survive this landscape. The palate of shades of clay throughout reflect the colors in these features found in the mountain west, especially southern Utah, California, and northern Arizona. This beautiful and descriptive book will most likely inspire hikes and exploration in this gorgeous landscape. Be sure to check out the back information about the animals found in this informative book.
Opposites Abstract, by Mo Willems, simplistically celebrates abstract art and how to interpret what you see.  The first thing you see when you open the book is a square with nothing in the middle except a thin brushstroke. Underneath you see This is the Starting. Upon turning each page, you see simple images along with a simple question that will motivate you to think and reflect. Questions on each page include: Is it soft? Is this hard? The simple art will surely have all look and analyze what they see.
Inside Cat, by Brendan Wenzel, is a breathtaking adventure that opens new horizons never imagined before. A uniquely drawn cat has only seen the world from windows. As he explores many different windows to see what is outside, you see his curiosity becoming more and more intense. The lyrical text moves smoothly along as Inside Cat learns more and more about the outside world from these windows. The ending is quite interesting once Inside Cat goes outside. Be sure to check out the wonderful end-pages. The fabulous illustrations were rendered in a variety of media, including cut paper and oil pastels.