To read more from Rachel, visit Evalogue.Life.
During this season you are likely making new memories and revisiting Christmases past. You may be celebrating with tried and true traditions, or creating some new ones. There's a chance you'll have some downtime between Christmas and the New Year festivities, which is a perfect time to capture your own Christmas story. It can be easy to record Christmas stories, and it's a gift you and your family will always cherish.
We encourage you to take a moment and preserve some part of it. You can take just five minutes or as much time as you choose to record your Christmas story this year.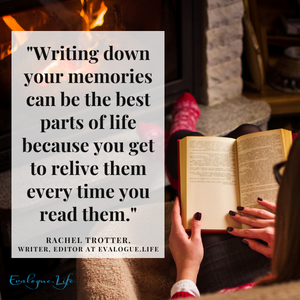 Here a few prompts for your Christmas story:
What was the best part?
The worst part?
The funniest part?
When did you feel joy?
When did you feel sorrow?
Who did you miss and why?
Who did you get to see that you haven't seen for ages? How did it make you feel?
Were any bad feelings erased?
Were any new, great memories made?
What was the best gift you got and why?
What was the best gift you gave and why?
What was the best thing you ate?
What was the best thing you drank?
How much sleep did you get and why?
What did you wear and why?
What children did you spend time with? Did they feel the magic of Christmas? Did it rub off on you?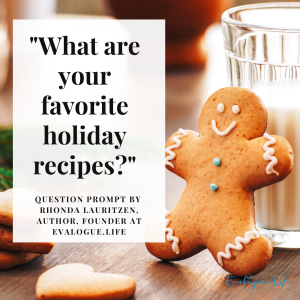 Ways to record Christmas story thoughts:
You can do it with pen and paper, which can be quite therapeutic and relaxing.
Do it on your laptop or desktop computer. If you have a lot to say that can be a great resource.
You can even jot down a few thoughts on your smart phone in your notes or other app.
Send it in a text. Share it with a loved one or friend. Sometimes sharing your story is a great feeling and if you don't want to take lots of time, that may be the ticket. It will be recorded that way too.
Send an email . You can send it to yourself so you will have it in a safe spot, or send it it to someone as a thank you for a great holiday.
Take a moment and just turn on the video camera or audio recorder on your phone so you can capture the moment in real time. Those memories will be cherished in years to come.
Record your thoughts on social media. Share the best part of your day on Instagram, Facebook or Twitter. You can look back on it there for years to come as well. Sometimes a few sentences or paragraph on social media is a great way to share some Christmas spirit.