It's that magical time of year!  So – what better time is there than now to read some wonderful picture books to enhance this season for youngsters, ages three to eight?  The first eight books of the following are board books for toddlers. The rest of the books are picture books, except for the last book.
Bookscape Board Books: Christmas Cheer, by Ingela P. Arrthenius, is a uniquely packaged book with the scene of each page made into that shape. It begins with a small fireplace, then a family baking, then the shape of a house and so on. There is little text to describe what is being depicted on each page. The theme is all about Christmas and the activities that take place. This is a smallish sized book but packed with joy.
Rocket's Christmas Surprise, by Tad Hills, is a sweet little story along the same storyline as Hill's bestselling picture books. This story has Rocket with a book he has written just for Santa. His best friends, Bella, the squirrel, and Owl, show him that they also have presents for Santa. See how this endearing story with best friends ends up with kind presents from Santa.
Merry Christmas, Baby, by Georgiana Deutsch, and cleverly and brightly illustrated by Durbravka Kolanovic, celebrates with rhyming text gift-giving to those who mean the most. There is a die-cut circular shape found throughout signifying different objects attributed to Christmas. Christmas joy / in every song- / smiling as / we sing along!
Open Santa's Door, by Christopher Santoro, invites you to peek inside Santa's house.  Every open page is a colorful scene from different locations in the house: on the table, in the oven, and more.  The text reads with a simple question on every turn of the page.  The answers are found beneath each flap.  The cover has eye-catching glitter sparkling on the snow.
Christmas A B C's: A Golden Alphabet Book, by Andrea Posner-Sanchez, and with various illustrations as it's a compilation of pictures from favorites of Little Golden Books. The illustrations are a delight that span from famous and well-known artists such as Richard Scarry and Eloise Wilkins. There is a nostalgic feel to this book that has portions of the book that were originally published back in 1946.
Walt Disney's Santa's Toy Shop, by Al Dempster, was originally published in 1932 so the vintage illustrations beautifully reflect a time long ago when pictures were drawn in a distinctive style.  This Little Golden Board Book tells the tale of Santa making his toys for delivering on Christmas morning but that he doesn't have time to play with his own creations.  See how he solves this dilemma.
Mouse's Night Before Christmas, by Tracey Cordero, and beautifully and brightly illustrated by Sarah Massini, is a perfect story to read on Christmas Eve as youngsters settle down for a long night of anticipation.  Mouse is all alone this Christmas Eve as he makes a wish for Santa to arrive.  When his wish comes true, his loneliness is about to change – forever. As you read about the adventures that Mouse experiences this Christmas Eve this book may just become a Christmas tradition.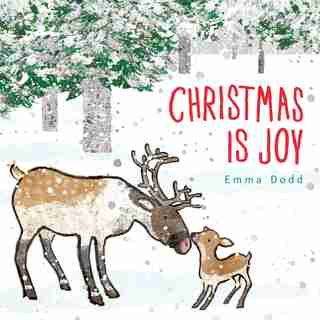 Christmas is Joy, by Emma Dodd, celebrates the true meaning of Christmas through the eyes of two beautifully illustrated reindeer. One large buck and a baby doe look to the sky as the rhyming text lies near their feet. Christmas is snow / upon the ground, / the air filled with snowflakes / whirling around. The ending page has a herd looking towards the bright star in the heavens and the text reads: Christmas is peace, stars twinkling above / a night of sweet dreams and heart full of love.
Peas on Earth, by Jonny Marx, and uniquely illustrated by Lindsey Sagar, is a clever countdown from five to one. Five little peas, illustrated with die-cut holes, are excited to celebrate Christmas. Each page turn brings down the count and one less hole found on the open page.
Here Comes Santacorn, by Danielle McLean, and illustrated by Prisca Le Tande, has a colorful die-cut shape of a Christmas tree found on every page.  These trees get smaller and smaller upon the turn of every page.  Santa has a new animal pulling his sleigh – a Unicorn!  This rhyming tale will bring smiles and anticipation, along with children begging for it to be read over and over!
Christmas Rocks! Book and Rock-Painting Kit, by Lori C. Froebel, and illustrated by Luana Rinaldo, is the complete activity book. Included in this kit are rocks, six different paint pots, paintbrushes and a book full of ideas, instructions and gift giving ideas. There are also pom-poms to glue and glitter and sequins to decorate the rocks. This kit and book are best suited for ages eight and up.
Jeannie's Crab Lake Christmas, by David Milford, and gorgeously painted by Christine Cathers Donohue, is a beautiful story about how the woodland creatures are excitedly anticipating the return of their friend, Jeannie, to their Wisconsin lake.  She has never before visited in winter and so close to Christmas, when magic happens, and they can talk.  The cardinals, deer, bears, moles and more are eager to finally get to talk to their dear friend, Jeannie. This gathering of family and friends helps make this time of year extra special.