Autumn is a beautiful time of year!  The air is crisp, apples are at their best and Thanksgiving is around the corner.  Here are some great picture books to help enjoy this wonderful season.  All of these books are good for ages three through eight, unless otherwise indicated.
Bess the Barn Stands Strong, by Elizabeth Gilbert Bedia, and beautifully illustrated with pencil, crayon, gouache and assembled digitally by Katie Hickey, celebrates the loving, lasting sturdiness of a farm barn. At the beginning of the book, you see a bright, new barn built on "…a sunny June morning with the dew still sparkling on the prairie grass". After the roof was raised and the barn was completed, sturdy and strong, the farmer christened the barn the name of Bess.  Soon after that he opened her large doors to his animals, both large and small. The fall brought a gathering of neighbors and friends where Bess was used for singing, dancing and eating.  As the years and seasons came and went, Bess became old.  Read what happens to this endearing structure and the importance it represents to both farm and farmer alike.
Into the Forest: Wander Through Our Woodland World, by Christiane Dorion, and perfectly painted with representative animals and trees by Jane McGuiness, is an oversized book rich with representations of all types of animals and distinctive trees living in the woodlands. There is a glimpse of life amongst towering trees as the seasons progress throughout the year. There are glorious pictures of seed types, distinctive leaf shapes and tree trunks with labels to help you decipher and learn their names. After observing the first page with the wide variety encountered in the content list, the rest are open-page illustrations with a brilliant look into the forest world. This book will take you through the seasons and begins with a look at the forests throughout the world. This book is so rich with information that it can easily and thoroughly be enjoyed by all ages. Be sure to check out the well documented glossary found in the back of the book.
Neighbors, by Kasya Denisevich, is a most unusual and creative book.  It's almost a wordless book packed with a powerful theme.  The vivid artwork is done with ink and you see a hint of the storyline on the cover. Most of the open-page scenes are rendered in blacks and grays.  The cover has a little girl in a high-rise apartment looking out a window where the entire scene is mostly shades of black and gray.  She is in bright red clothing alongside of her red cat.  The little girl wonders some deep thoughts about who lives above and below her.  And she explores that thought with imagery on the pages.  How she finds a friend and the bright yellow colors that then appear is glorious.  The entire book is explored through a fall setting.  This is a perfect book to help discuss becoming friends with your neighbors and beyond making this good for all ages.  Even the opening end-pages make for a discussion of the theme of this alluring book.
Woodland Dreams, by Karen Jameson, and gorgeously painted by Marc Boutavant, is a wondrous celebration of fall as animals, and the forest, prepare for the upcoming cold season.  As a young girl runs through a forest with her dog, you observe the surroundings and all that is taking place in this fall forest. The rhyming text homologizes the features of all the surrounding nature.  A baby deer is sighted sprinting across the padded landscape and you read, "Wide-eyed runner / Spotted sunner / Evening's sounding. Scurry! Rush. / Safely nap in wooded brush." You see a peek of setting sunlight, leafless branches, and animals and the little girl prepare for fall to end and winter to begin.  Many of the gorgeous illustrations are on the open page and the end-pages are a perfect way to begin and end.
Eric, by Shaun Tan, is a most unusual book with a storyline deep and rich in its telling.  I realized when I first saw this book, even before opening it, that it would be unique.  I love and admire this amazing award-winning author / illustrator.  Eric is actually a small leaf who happens to drift into a house seeking refuge.  There is some deep meaning in this book that can easily be discussed with family members.  Some are about fitting in and feeling accepted. When the host of the house suggests an extra room with new furniture and rug, he chooses to sleep in a cup in the cupboard.  The illustrations, done with graphic and colored pencil on paper, are clever and Eric is quite adorable.  The illustration of him sitting in the car with a giant seatbelt wrapped around his leaf body will bring a smile to all.  This book is good for all ages.
Be Thankful, Be Giving, by Charles M. Schultz, and brightly illustrated by Scott Jeralds, is a sweet and simple board book with rounded edges that celebrates the essence and importance of family.  It also brings to light being grateful for our many blessings.  What a perfect little book for youngsters, ages two through four, to begin to understand our many blessings.
1 2 3s of Thankfulness, by Patricia Hegarty, and illustrated by Summer Macon, is a board book making this a perfect book for ages two through four.  This smallish sized book simply teaches gratitude, which is perfect for Thanksgiving, but also throughout the rest of the year.  The rhyming text is sweet and quick to read out loud.  "One little thank-you can go a long, long way. And one thank-you kiss can make someone's day." There is so much to be thankful for and this small book helps bring this thought to the forefront.  This little book goes perfectly with ABCs of Kindness.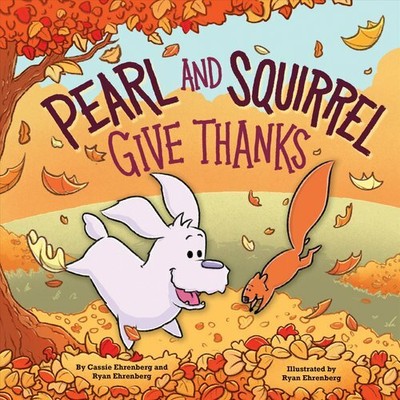 Pearl and Squirrel Give Thanks, by Cassie Ehrenberg and Ryan Ehrenberg,and illustrated by Ryan Ehrenberg, is the perfect book to read this month helping youngsters appreciate all their blessings and to be thankful for all that is around them.  Pearl is a cute scruffy dog and squirrel is his best friend.  As they survive living on the streets of a city, they end up appreciating what they like the most: having each other. The text is lively, and the bright illustrations make this an enjoyable read for bedtime.