Author's Note: Because healthy sexuality begins in the mind, it is paramount that individuals develop a positive sexual mindset in order to prepare for and be able to create a sextraordinary marriage. This article is an excerpt from Chapter 2 of the new book From Honeymoon to Happily Ever After: 23 Keys to Prepare for a Sextraordinary Marriage.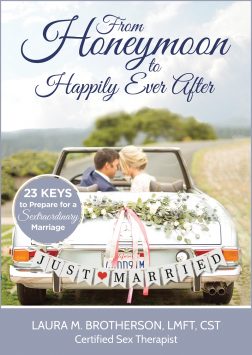 Give yourself the gift of sexual wholeness by participating in Laura's new "Sexual Wholeness Workshop for Women" on Saturday, May 9, 2020 in Salt Lake City, Utah.
~~~~~~~~~~~~
Healthy sexuality begins in the mind, so we need to have a healthy sexual mindset if we are to create a sextraordinary relationship within marriage. Because of the lack of positive conversation surrounding sex, many teens and young adults develop an underlying belief that sex is a bad, dirty, or unholy thing. One young man explained:
Like many youth raised in religious environments, the topic of sex was always taboo and unmentionable in our home. In my family we didn't even say the word sex. The focus of sex always seems to be on that it's simply forbidden before marriage.
While negative sexual feelings may not be the case for you, it may be true for the person you marry. In this article, we will focus on what individuals and couples can do to rework any of their negative thoughts and beliefs to instead have a more affirming and uplifting mindset regarding sex and sexuality. Understanding and internalizing the idea that sex is good and of God will significantly increase the fulfillment and satisfaction in marriage.
Overcoming Negative Attitudes and Beliefs
Many young minds are like a parched desert thirsty for the water of God's light regarding healthy sexuality. Filling our minds with affirming, reverent messages about marital intimacy from any good resource can be like pouring water into the sexual desert of the mind.
How you feel about sex plays a significant role in your responsiveness intimately. A positive view of sexuality is paramount to developing a healthy sexual psyche in marriage.
Exposure to healthy affirming attitudes and information is so needed and can work wonders on one's sexual mindset. Through repetition, uplifting words can change the negative core beliefs to a true conviction of God's divine designs and blessings regarding the sexual relationship.
What are some things you can do to affirm sexuality as good and overcome any negative mindset you may have? The following are three specific things that anyone can do to help reaffirm sexuality as good, wholesome, and of God:
Discuss affirming quotes and scriptures. Spend some time studying the inspired words of prophets and apostles to program your heart and mind with God's true designs for sexual relations. It's not enough to only know intellectually that sex is good and of God. You must feel it in your heart and mind as well.

Read or listen to affirming books. For those who struggle to have positive sexual beliefs, study the affirming, yet reverent messages shared in this book, From Honeymoon to Happily Ever After, to help you understand the sanctity of the sexual relationship. Integrating sexuality and spirituality is needed for a healthy mindset and sexual wholeness. Listening to affirming books can be especially helpful in reframing your thinking about God's gift of marital intimacy to seeing it as wholesome and of God.

Discuss your sexual beliefs. With love, patience, and understanding, couples might discuss their sexual beliefs with one another or with other trusted friends or family members who already have healthy sexual perspectives. With each other you might discuss questions such as:

What are your beliefs and feelings about sex?
What have you been taught about sex?
What are some of the divine purposes of the sexual relationship?
Many couples have struggled with negative mindsets about sexuality but have been able to overcome these difficulties and develop happy and healthy sexual relationships. As you work to overcome any inhibiting thoughts and feelings you have about sex and sexuality, you will be better prepared and more able to fully and completely enjoy this wonderful dimension of marriage.
——
[Excerpted from Chapter 2 of Laura M. Brotherson's new book — From Honeymoon to Happily Ever After: 23 Keys to Prepare for a Sextraordinary Marriage.]
Stay tuned for additional articles in this series…
Other articles in this series include:
Click Here – for all Laura's Meridian Magazine articles!
———————————————
BIO — Laura M. Brotherson, LMFT, CST, CFLE
Licensed Marriage and Family Therapist and Certified Sex Therapist, Laura M. Brotherson is the founder of "The Marital Intimacy Institute" with a mission to help couples create "sextraordinary marriages." She counsels with couples, individuals and families in private practice (and online) and is passionate about helping couples navigate the intricacies of intimacy–specializing in healthy sexuality, sex therapy, and sex addiction. Laura is the author of the best-selling books, And They Were Not Ashamed: Strengthening Marriage through Sexual Fulfillment, Knowing HER Intimately: 12 Keys for Creating a Sextraordinary Marriage, and now her latest book — From Honeymoon to Happily Ever After: 23 Keys to Prepare for a Sextraordinary Marriage.
As a Certified Family Life Educator, Laura is also actively engaged in providing marriage education through "Couples' Cruises," articles, newsletters, radio and television broadcasts, "The Marital Intimacy Show" podcasts, and presenting at conferences and workshops. Laura is a regular contributor to the KSL Television "Studio 5" morning show. She is passionate about helping couples navigate the intricacies of intimacy to help build strong marriages and families. Laura and her husband, Kevin, are the parents of three grown children and are the founders of StrengtheningMarriage.com—your trusted resource for education, products and services to strengthen marriages … intimately!
Connect with Laura:
Website: StrengtheningMarriage.com
Website: MaritalIntimacyInstitute.com
Instagram: @StrengtheningMarriage
Facebook: facebook.com/StrengtheningMarriage/