Celebrate the extraordinary African heritage with these non-fiction books for children. These books highlight wonderful accomplishments and inspiring stories. All books are good for ages nine and up unless otherwise noted.
Schomburg: The Man Who Built a Library, by Carole Boston Weatherford and beautifully painted by Eric Velasquez, is a wonderful tribute to Arturo Schomburg. He was an Afro-Puerto Rican who collected art, letters, books, and everything he could get his hands on that showcased the history of the many African people who were forced through leave their countries. Arturo Schomburg's house became overflowing with all of these items, so the New York Public Library provided him space. This valuable information has ultimately become known as the famous Schomburg Center for Research in Black Culture. Weatherford has perfectly captured his life and accomplishments as well as other great known people. This book is written in lyrical free verse and Velasquez has painted with strokes of genius to compliment the book.
Real Sports: Tamba Hali, by David Seigerman, is an amazing story about how an NFL Kansas City linebacker was able to overcome great hurdles to accomplish his goals. Tamba Hali, along with his seven siblings, escaped war-torn Liberia to the Ivory Coast when they were young. Tamba was eventually able to join his father in America. Learning English and fitting into a completely different culture were just some of the obstacles he had to overcome. But one of his greatest joys was when he was able to finally bring his mother to America from Liberia.
Champion: The Story of Muhammad Ali, by Jim Haskins and oil-painted with perfect exactness by Eric Velasquez, covers the fighter's life with the highlights beginning at the age of twelve. That was when Muhammad Ali was known as Cassius Clay and his bike was stolen. He chased down the thief and was caught by the police who exclaimed "that he had better learn how to fight first." This same police officer offered him boxing lessons at the gym and the rest is history. The highlights of his life are kid-friendly with interesting excerpts found throughout this non-fiction. Muhammad Ali had much to overcome which included racial discrimination and being mocked by the media. He also faced Parkinson's Syndrome in the last part of his life.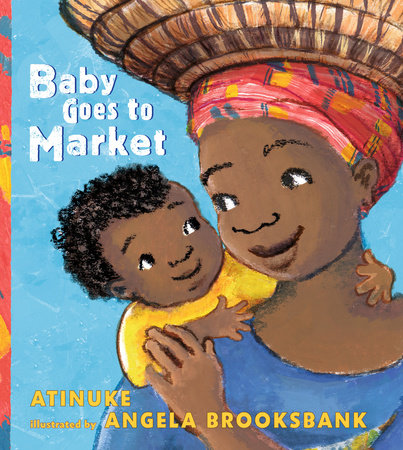 Baby Goes to Market, by Atinuke and vividly illustrated by Angel Brooksbank, is a brightly painted peek into an open-air market in Africa. The singsong and descriptive text makes for a light read as Mama carries Baby from one food stall to another. As Mama shops, Baby is tasting and sampling along the way unbeknown to Mama. Mama begins to wonder why her bag has become so heavy. This delightful picture book has enlightening components for youngsters. Open-air food stands demonstrate a common way to shop for groceries in other countries. The bright clothing and baby wrap shown in this book displays a style unique to West Africa. The coconuts, biscuits, and more that Baby takes becomes a fun counting exercise. This picture book is good for ages three through six.
The Ring Bearer, by Floyd Cooper, is a simple picture book about a blended family. Young Jackson is anxious about his duty to carry the ring at the upcoming ceremony. But there's much more to this than his anxiousness. He is concerned about his new little step-sister, Sophie, and if she can manage her job as the flower girl. When the procession begins, a near accident almost disrupts the event except for Jackson's courageous feat when he dismisses his duty to help Sophie. The simple text is designed for an easy read but rich in simplicity and elegance. The vivid pictures are painted with soft hues of orange, pink, and blue. This picture book is good for ages three through six.
42 is Not Just a Number: The Odyssey of Jackie Robinson, American Hero, by Doreen Rappaport, is an outstanding overview geared for kids about one of the greatest athletes in American history. Jackie Robinson was the star player not only in baseball during his college years, but also in football and basketball. He was hoping to play on a professional baseball team, but no person of color had been able to cross the racial line.   However, Robinson was about to change all of this and begin the wave of racial equality. Rappaport brings out the highs and lows of this great man's life and the impact he made on our country. Be sure to check out the discussion guide found in the back to help youngsters understand the prejudice and accusations Robinson continually faced during this difficult time in his life. He faced all trials and tribulations with determination and perseverance.