Two temples, in Auckland, New Zealand and Alabang, Philippines, held groundbreaking ceremonies this week. Though Latter-day Saint temples around the world have been closed due to circumstances surrounding the coronavirus, they have been reopening for living ordinances in phases. Additionally, construction on previously announced temples continues. Read the updates on these two new temples from the Church Newsroom below:
Elder Ian S. Ardern, Pacific Area President of The Church of Jesus Christ of Latter-day Saints, other Church leaders and several guests broke ground on Saturday 13 June, officially commencing the construction of the Auckland New Zealand Temple.
Elder Ardern was accompanied by his wife, Paula, and other members of the Pacific Area Presidency including Elder K. Brett Nattress and his wife, Shawna; Elder Kazuhiko Yamashita and his wife, Tazuko, and regional leader Elder Glenn Burgess and his wife, Tracey.
Among the guests from government, other faiths, and the community, were Hon Aupito William Sio, Minister for Pacific Peoples; and Mayor Phil Goff, Mayor of Auckland.
"This is an historic day as we dedicate the ground for the Auckland New Zealand Temple," Elder Ardern said. "For members of the Church, temples are the most holy of our places of worship."
He invited members of the Church to spiritually prepare for the opening of the temple in approximately three years.
To read the full report on the Church Newsroom, CLICK HERE.
When the Philippines Area Presidency entered Alabang in Muntinlupa, Metro Manila, they were greeted with tall buildings in this blossoming business district amid lush landscapes and tree-lined pathways. Despite the modern cityscape, Alabang has maintained a serene ambiance—a fitting place for worship, reverence, and a temple of The Church of Jesus Christ of Latter-day Saints.
With only a handful of members attending following general community quarantine (GCQ) rules, the small but sacred groundbreaking service was held on June 4, 2020, so that construction could proceed when Metro Manila falls under a modified general community quarantine (MGCQ) classification.
Elder Evan Schmutz, Philippines Area President, warmly greeted the attendees. "We recognize that we are a small gathering because of the conditions that are still present in the Philippines and elsewhere in the world that limit our ability to gather in larger groups and so we're spaced from one another in what we refer to as social distancing," he said.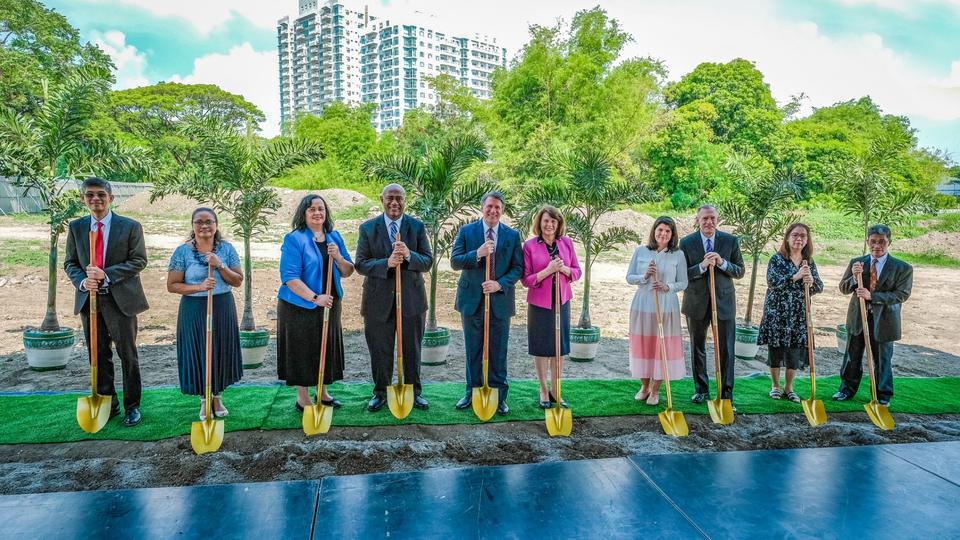 "The Lord is mindful of all His children. In 1982, 21 years after the Church was organized in the Philippines, the Manila Temple groundbreaking was held. The Cebu Temple groundbreaking followed in 2007 which was 25 years later. The Urdaneta Temple groundbreaking which was held last year was 12 years after Cebu. And the Alabang groundbreaking today was held one and a half years after Urdaneta's," highlighted Elder Taniela Wakolo, a counselor in the Area Presidency.
To read the full report, CLICK HERE.