The storm of war had been building all around Far West, Missouri in the late summer of 1838. Mob activity had been so intense that Mercy Rachel Thompson wrote, "At times I feared to lay my Babe down lest they should slay me and leave it to suffer worse than immediate Death."[1]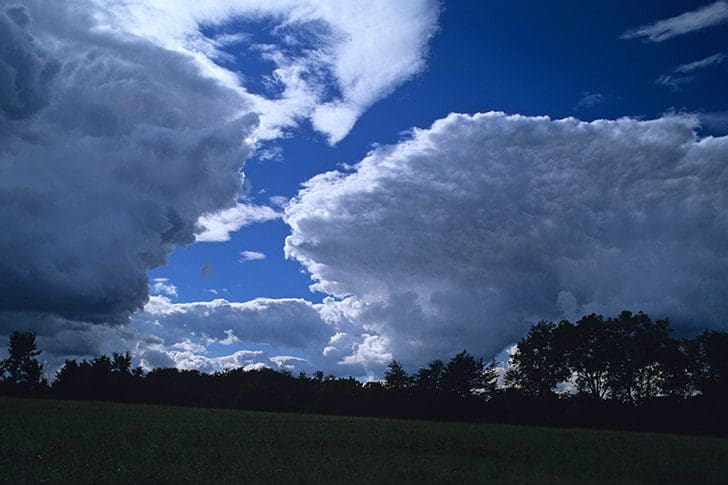 By October 31, 1838, the anti-Mormon militia of up to three thousand gathering around the barricaded city outnumbered the Far West militia five to one. Commanding General Samuel Lucas sent a flag of truce to Colonel Hinckle, who secretly agreed to turn Joseph Smith and other key leaders over for trial and punishment. He also agreed that Mormon property would be confiscated for damages and that the Saints would surrender their arms and leave the state.
In Far West, Hinckle told Joseph, Sidney Rigdon, Parley Pratt, and others, that Lucas wanted a peace conference with them. When they met together, however, Lucas instantly ordered his guard to surround the Mormon leaders. Whooping and yelling like bloodhounds let loose upon their prey, they swore oaths and mocked the men throughout the night: "Come, Mr. Smith, show us an angel. Give us one of your revelations. Show us a miracle!"[2]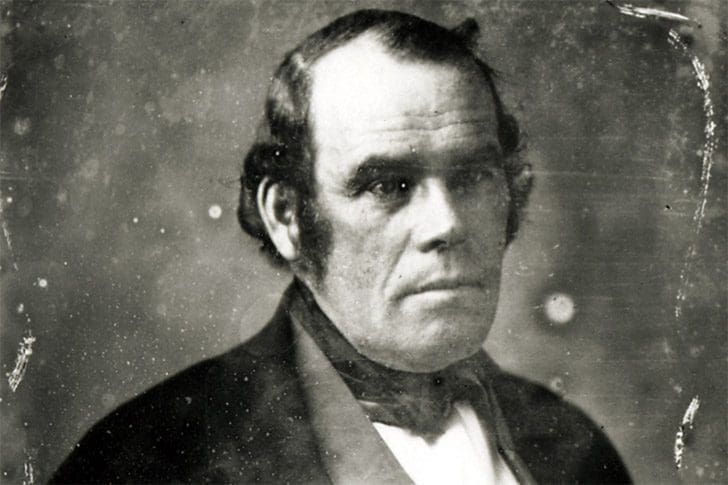 Parley Pratt wrote, "No pen need undertake to describe our feelings during that terrible night, while there confined—not knowing the fate of our wives and children, or of our fellow Saints, and seeing no way for our lives to be saved except by the miraculous power of God. But, notwithstanding all earthly hopes were gone, still we felt a calmness indescribable. A secret whispering to our inmost soul seemed to say: 'Peace, my sons, be of good cheer, your work is not yet done; therefore I will restrain your enemies, that they shall not have power to take your lives.'[3]
When General Alexander Doniphan received an order from his superior, Lucas, to execute the prisoners the next morning in the public square, he saved their lives by declaring, "It is cold-blooded murder. I will not obey your order. My brigade shall march for Liberty tomorrow morning, at 8 o'clock; and if you execute these men, I will hold you responsible before an earthly tribunal, so help me God."[4]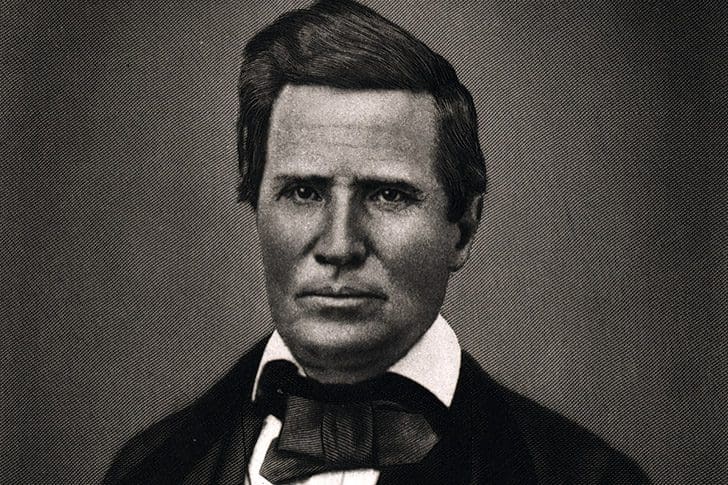 Intimidated by Doniphan's stand, Lucas made plans to take the Church leaders to Richmond for trial. Believing they might be shot, Joseph and the others begged to see their families one more time before they left. "When I entered my house, they clung to my garments, their eyes streaming with tears, [5] wrote Joseph. Parley P. Pratt said, "The cold rain was pouring down without, and on entering my little cottage, there lay my wife sick of a fever. . . At her breast was our son Nathan, an infant of three months. . . I stepped to the bed; my wife burst into tears; I spoke a few words of comfort . . . expressing a hope that we should meet again though years might separate us."[6]

Joseph and the other leaders were taken to Richmond for an agonizing preliminary hearing on charges growing out of the armed hostilities. The prisoners submitted a list of defense witnesses, but these were systematically jailed or driven from the county. Parley Pratt described conditions in the jail as they awaited their trial: "Our ears and hearts had been pained, while we had listened for hours to the obscene jests, the horrid oaths . . . and filthy language of our guards . . . as they recounted to each other their deeds of rapine, murder, robbery, etc., which they had committed among the 'Mormons' . . . They even boasted . . . of shooting or dashing out the brains of men, women and children.
"I had listened till I became so disgusted, shocked, horrified, and so filled with the spirit of indignant justice, that I could scarcely refrain from rising," when "on a sudden [Joseph] arose to his feet, and spoke in a voice of thunder, or as the roaring lion. . . 'Silence, ye fiends of the infernal pit. In the name of Jesus Christ I rebuke you, and command you to be still; or you or I die this instant!' He looked upon the quailing guards . . . who, shrinking into a corner, or crouching at his feet, begged his pardon, and remained quiet till a change of guards."[7]
Falsely accused, the prisoners were cast into a two-story, twenty-two-foot-square stone dungeon with the ironic name of Liberty. For the next four winter months, the Prophet and his friends suffered from bitter cold, unfit food, filthy conditions, and smoke inhalation. On the lower level of the jail, they could not stand upright. But worst of all for the Prophet was his inability to comfort the Saints and his family, who were barely surviving in Far West and whose faith was being sorely tried. Reports of the Saints from the outside were grim.

The conditions in the Liberty jail were extremely poor. At least once the brethren were given food that was said to be human flesh, or "Mormon beef." They refused to eat it. While Hyrum was in the jail, his wife, Mary Fielding Smith, gave birth to a son and was allowed to bring him here to be blessed. With tenderness, Hyrum named his son after his prisoner-brother: Joseph Fielding Smith. This little baby, born in affliction and conflict, would become the sixth president of the Church and preside over it for seventeen years.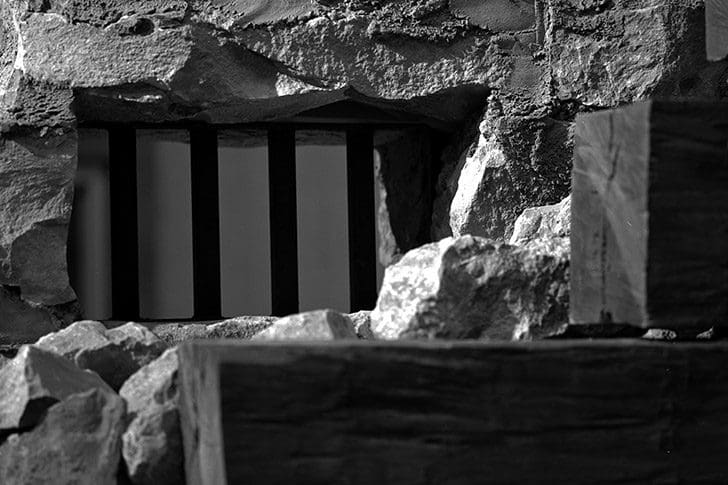 Finally, Joseph appealed to the Lord: "O God, where art thou? And where is the pavilion that covereth thy hiding place? How long shall thy hand be stayed, and thine eye, yea thy pure eye, behold from the eternal heavens the wrongs of thy people and of thy servants, and thine ear be penetrated with their cries? Yea, O Lord, how long shall they suffer these wrongs and unlawful oppressions, before thine heart shall be softened toward them, and thy bowels be moved with compassion toward them?" (D&C 121:1-3.)
The Lord answered his plea: "My son, peace be unto thy soul; thine adversity and thine afflictions shall be but a small moment; and then, if thou endure it well, God shall exalt thee on high; thou shalt triumph over all thy foes." (D&C 121:7-8.) From the darkness of the Liberty jail, Joseph wrote, "We glory in our tribulation because we know that God is with us."[8]

For some, the flight from Missouri was evidence that the Lord had forsaken the Saints. They had lost their property and had suffered sorely. Their Prophet was jailed, with no prospect for relief. Their dreams of the promised Zion as the center place were indefinitely postponed.
In fact, the enemies of the Church must have been sure it had been successfully destroyed, once and for all. Yet from Liberty, a steady Joseph wrote, "Zion shall yet live though she seemeth to be dead." And the Lord said, "If the very jaws of hell shall gape open the mouth wide after thee, know thou . . . that all these things shall give thee experience, and shall be for thy good. (D&C 122:7) The dungeon walls had not been thick enough to stop the light of revelation as Joseph received this assurance from the Lord: "What power shall stay the heavens? As well might man stretch forth his puny arm to stop the Missouri river in its decreed course, or to turn it up stream, as to hinder the Almighty from pouring down knowledge from heaven upon the heads of the Latter-day Saints." (D&C 121:33)
For the less steady, Missouri had been a time of sifting. John Corrill was one who had once thrown himself wholeheartedly into the cause. He had not whimpered at the expulsion from Jackson County; he had offered to be whipped or die for the gospel; he had wandered homeless into Clay County; he had stood by the Prophet in all things—and now it was enough. He had lost his faith in Joseph Smith. He wrote, "Calculation after calculation has failed, plan after plan has been overthrown, and our prophet seemed not to know the event till too late. If he said, 'Go up and prosper,' still we did not prosper, but have labored and toiled, and waded through trials, difficulties, and temptations, of various kinds, in hope of deliverance. But no deliverance came."[9]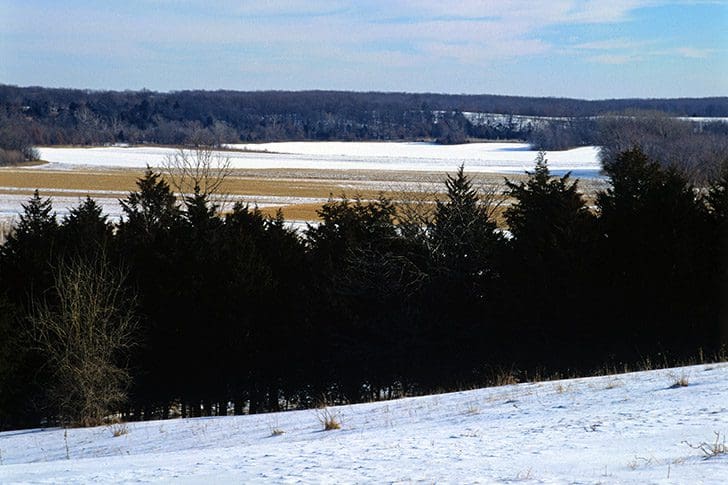 Others, however, did not give up. In the face of great adversity, they grew in faith and courage. Eliza R. Snow, struggling out of Adam-ondi-Ahman in the dead of winter, was taunted by a militiaman, "Well, I think this will cure you of your faith." Looking him square in the eye, she replied, "No, sir, it will take more than this to cure me of my faith."[10] Then she, with twelve thousand others who felt the same way, trudged eastward to the Mississippi River.
---
[1] Parley P. Pratt, Autobiography of Parley P. Pratt (Salt Lake City: Deseret Book Co., 1938), p. 187 (hereinafter PPP).
[3] Joseph Smith, History of the Church of Jesus Christ of Latter-day Saints, 2nd ed. rev., edited by B. H. Roberts, 7 vols. (Salt Lake City: The Church of Jesus Christ of Latter-day Saints, 1932-51), 3:190-91, footnote. (Hereinafter referred to as HC.)
[4] Times and Seasons 4:267.
[8] Personal Writings of Joseph Smith, edited by Dean C. Jessee, (Salt Lake City: Deseret Book, 1984), p. 375.
[9] As quoted in John Henry Evans, Joseph Smith, an American Prophet (Salt Lake City: Deseret Book Co., 1989), p. 141.
[10] Eliza R. Snow, "Sketch of My Life," microfilm of holograph, Church Archives.