Sign up for Meridian's Free Newsletter, please CLICK HERE
Non-fiction books can be one of the best ways to inform and inspire kids of all ages. These types of books need to be interesting, as well as informative, to hold their interest. There is a good chance they just might discover what their livelihood might be in future years. Here are some outstanding non-fiction books for ages eight through adult unless otherwise indicated.
Life on Surtsey: Iceland's Upstart Island, by Lorene Griffin Burns, is a part of the excellent "Scientists in the Field" series. If you have not read any of these books you and your family are missing out on interesting, invigorating and inspiring information. This series of books helps guide young people into possible livelihoods by sparking their interest in an area that they might otherwise never have known about until much later in life – if ever! This particular book showcases an entomologist as he explores a new island off the coast of Iceland following a volcanic eruption in 1963.
Impact! Asteroids and the Science of Saving the World, by Elizabeth Rusch, and with effusive photos by Karin Anderson, is another edition of the "Scientists in the Field" series. This picturesque book begins by defining an asteroid and then discusses locations where they have hit the earth. The book goes into detail of the ramifications of the damage to buildings and outlying areas. The last part of the book outlines plans to prevent a very large asteroid from threatening our planet.     
Water: All About the Water Cycle, Precipitation Why We Need Water and more, by Seymour Simon, provides an easy to grasp understanding of why water is a necessity of life. The effects of water, or the lack of it, is discussed along with the vital importance of clean water. There are full-color photos, a glossary and an index found at the back.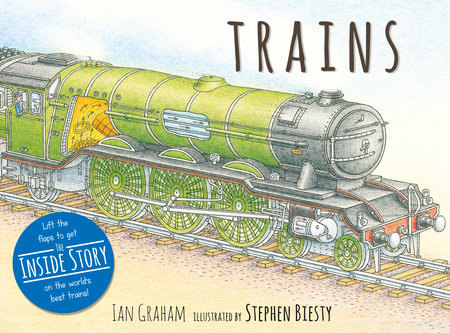 Trains (Lift the Flaps to get the Inside Story on the World's Best Trains), by Ian Graham, and inventively illustrated by Stephen Biesty, reveals eight trains through history in a unique way. Biesty is a master of showcasing cross-sections of buildings, bridges and in this case – trains. It begins with early steam trains and leads up to high-speed trains. Thebook eventually ends with trains of the future. The pages are sturdy which enable the many flaps to be opened without tearing. Each train is featured in a double open-page spread
Al Roker's Extreme Weather showcases tornadoes and typhoons, along with other weather phenomenon. His chapters include Storms, Dangerous Conditions (such as drought and extreme cold), Aftermath (such as floods and avalanches) and Biggest, Deadliest, Most Extreme (such as the fastest gusts of wind recorded and the deadliest hurricane). The layout is kid-friendly with easy to read scales and interesting photos of the extreme conditions. Every elementary school should have this book!
Bob and Joss Take a Hike, by Peter McCleery, and illustrated by Vin Vogel, is a picture book about two friends who go on a hike and become lost. But this simple book features elevation as they continue to hike in the mountains. Sometimes they go into a valley and the elevation shows lower numbers. Sometimes they climb up ridges which reflects a higher elevation. This book is good for ages five through eight.
From Here to There (The Story of How We Transport Ourselves and Everything Else), by H.P. Newquist, is an in-depth look at how we have progressed through transportation, beginning back when the wheel was invented around 6,000 years ago to now.  The changes have become drastic and impressive in development and convenience. The innovations have only accelerated as time goes on and this highly interesting book shows this progress through information, drawings and photos. This book is an outstanding and excellent look into the past and how far we have come through our technology.
Sinking The Sultan (A Civil War Story of Imprisonment, Greed and Journey Home), by Sally M. Walker, is an account of the worst maritime disaster in U.S. history. The year is 1865 and the war is winding down following the assassination of President Abraham Lincoln. More than 2,000 Union soldiers were released from Confederate prisons and were heading back north up the Mississippi River. Due to an overzealous and greedy captain of a steamboat that could only hold 376 people, heloaded up his boat to over 2,000 men. The ship's boilers burst and plunged and burned more than 1,500 of these men. The book teaches us about this tragedy with the written account, drawings and photos. Be sure to check out the author's notes, glossary and source notes found at the back.
Unstoppable: True Stories of Amazing Bionic Animals, by Nancy Furstinger, is a look at how prosthetics have helped many different kinds of animals lead a more normal life. By reading about these animals in each chapter there is a great possibility that it may inspire a future veterinarian, doctor or orthotist.
Who Am I? An Animal Guessing Game, by Steve Jenkins and Robin Page, is a clever book laid out with clues on both sides of the open page. These clues include showing obvious attributes of the animal, where it lives and what it eats. The animal Isseen on the next double page along with some of the clues given previously. The brilliant illustrations are made with cut and torn paper.