The days are short and the nights are long this time of the year.  Curling up with a nice bedtime story is the perfect way to prepare for sleep.  Here are some books to help your youngster settle down for the night. But beware – they may beg for more stories when the time is long past to go to sleep.  All of these books are picture books and are best for ages two through six, unless otherwise indicated.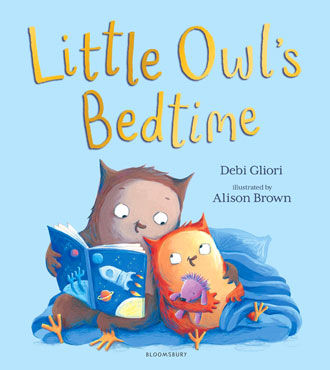 Little Owl's Bedtime, by Debi Gliori, and beautifully painted with soft hues of blues and greens with acrylic and colored pencils by Alison Brown, is a sweet story about Little Owl struggling to go to sleep.  Mommy Owl read her two little owls a nice book for bedtime.  Except Little Owl can't fall asleep.  He wonders what sounds he hears and Mommy Owl responds patiently and creatively by inventing reasons for the darkness or sounds.  Shy little frogs singing or butterflies snoring in their flower beds.  The pictures of the frogs singing and the tiny butterflies snuggled in their willowy beds are adorable.  The love of parent to her children is strong and comforting.
The Bear and the Moon, by Matthew Burgess, and with wonderful open-page illustrations done in mixed media by Caria Chien, is a deeply written and gorgeously illustrated book rich with emotion both visually and through text. Bear finds a gift from the sky that is red as a berry, round like the moon. What happens to this red moon-like balloon and how Bear reacts to it makes this book a strong contender for the Caldecott winner. The effects of the contrast between Bear and the moon is quite ethereal.
The Ninja Club Sleepover, by Laura Gehl, and brightly illustrated digitally by Mackenzie Haley, has a very clever storyline.  Willa has been invited to her very first sleepover.  Her two best friends are part of her Ninja Club and Val has decided to have a sleepover in honor of her birthday.  But Willa is very concerned.  It will be a full-moon night and her friends have no idea of her secret – she is actually a werewolf!  She covered herself up, so her skin doesn't show in the glow of the moon.  However, there are more surprises waiting for the reader that will bring smiles and delight.  This book presents some good issues about acceptance and friendship and is best for ages four through eight.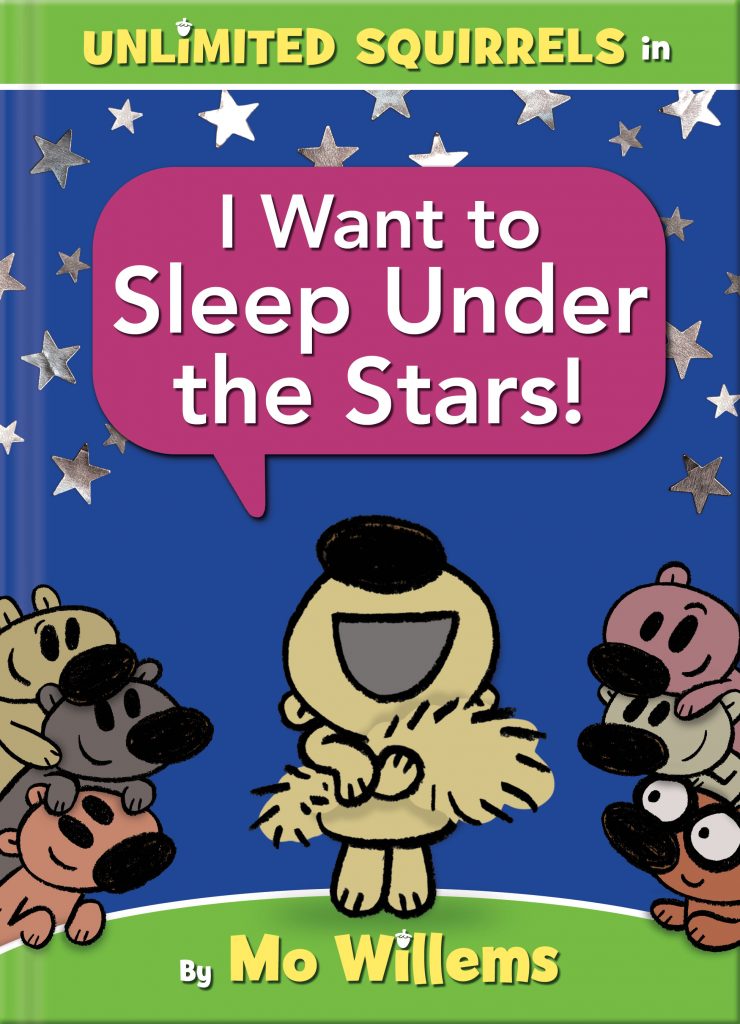 I Want to Sleep Under the Stars, by Mo Willems, is another hilarious and ever-popular book for early readers. Youngsters, ages five through seven, know the antics of the Elephant and Piggie series and this newer series featuring Unlimited Squirrels is just as fun, funny and even informative. The execution of the precise and simple text, along with these furry laughable characters, makes this book a delight and helps youngsters realize that reading is a great experience. Zoom Squirrel wants to sleep under the nighttime stars. So, his squirrel friends (and a bird), set in motion an experience to make this happen. And the fun begins. There are three easy chapters along with some very acorn-y jokes and even some clever emote-acorns to look for. Where was this brilliant author/illustrator and his books when I was learning to read?
You're My Little Snuggle Bear, by Nicole Edwards, and vibrantly illustrated by Natalie Marshall, is a board book with cutouts found throughout exposing adorable furry and feathery baby animals that are raised above each page.  These babies are all curled up next to their mothers and create an image of comfort in their sleep.  This book is best for toddlers.
Moon Bear, by Frank Asch, is considered a classic that was originally published back in 1978.  Bear first notices the moon and is loving everything about it watching it every night.  But when he notices that it begins to get smaller, he's worried that it will soon disappear.  How Bear learns about the moon's different sizes is part of this heart-warming story as the reader learns right along with Bear.  Asch's simple, yet powerful, drawings with pen and ink move the story along making this perfect for ages two through five.
The Stars up the Street, by Sue Soltis, and rich with expression using watercolor over ink by Christine Davenier, has young Mabel loving the stars.  She loves to gaze up into the night and count them.  But her grandfather tells her that he used to be able to count much more than she could even comprehend back when he was a child.  But as she climbs a hill to try and count more in the night, the lights from a nearby town interferes with the dark sky.  How she comes to solve this dilemma is inventive and perfect.
Love, Sophia on the Moon, by Anica Mrose Rissi, and brightly illustrated by Mika Song, is a very clever story showcasing a girl running away to live on the moon.  She's not happy being told when to go to bed and eating food she doesn't like.  The complete adorable story is told through letters written to her mom and her mom's response with letters written back to Sophia.  Mom responds to Sophia's letters with retrospect while enticing her daughter to come back because she has baked cookies – and now who will eat them?  Mom's last letter tells Sophia she loves her to the moon and back.
Lights Out Leonard, by Josh Pyke, and illustrated with hues of blues and black by Chris Nixon, is afraid to go to bed at night.  He's concerned about a three-headed, eight-armed, twelve-legged, hairy, scary-faced creature in the corner.   Leonard is drawn wearing an adorable fox-type of costume as he attempts to go to sleep.  Read how he discovers a book about how to scare off monsters.  This should help any youngster afraid of the dark at night.